Post by herosrest on Nov 10, 2015 19:09:59 GMT -5
Ducemus
In writing his chapter on Keogh's fight, Kuhlman kept many things constantly in mind and did not flatter himself with the belief his constructs were true in detail. He hoped that others might discover mistakes made and correct them. He made no apology for using the direct remains as the best material for the study of the battle, a method wrongly and long established among historians, who invariably use such material whenever it is available as a check on oral evidence. Of course, quoting Khulman:
'In this instance, however, there is a difficulty in the fact that the actual remains are no longer in evidence. The headstones, or markers, on the field do not represent the exact truth, thanks to irresponsible official action almost unbelievably stupid in placing markers haphazardly where no bodies were found.'
Had a bit of a bee in his bonnet about this matter, did old Charles and probably never got over it. If only Sweet had done it properly, eh! Charlie boy. All those authors would be out of work and for ever druming fingers.
He developed Marquis and the slow steady drum beat fight against pop up targets, all showing off in front of Bighead Kate; '
warriors who had come up the deep ravine (ha ha ) from the Middle Ford and those who had been sniping with the Gray Horse Troop on the ridge, drifted westward and also came to the field by way of this ravine. A few were still coming from this direction when Wooden Leg crossed the Middle Ford after returning from the Reno fight. When he arrived on the field the whole battalion was still together on the ridge with only a little long-distance sniping going on.
It should be stated here definitely that Custer took his whole battalion down to the west end of the ridge while these movements were taking place, and that the action began here, not on the east end of the ridge. This was made quite clear by Mrs. Spotted Bull Horn in 1909.
So, any way, Company E went off the ridge (hill) (knoll actually) and lined up in parade where Kuhlman gives SSL. Here Kuhlman shows his immense insight of the battle:
As an illustration we may say that a hunter in his "blind" can see the ducks over his decoys, but the ducks cannot see him. There was, of course, considerable dust and smoke at this time, especially where the mounted warriors were still milling.
Thus a troop of cavalry arrived on one of the Weir Ridges about three miles away as the crow flies. (note)
Bighead Kate saw a body of troops on the ridge mount their horses and come galloping down the Coulee. She saw the troops deploy, dismount and stand by their horses holding them by the bridle. While the troops were coming down the warriors directly in their front scampered back down the ravine, as did most of those on their flanks.
Lame White Man, a Southern Cheyenne regarded by many as the leading war chief of the tribe. He had been so long with the Northern Cheyennes that he had been accepted as one of them. When he was ready to strike he shouted to his warriors "Come on, we can kill them all."
Thus Keogh's breakout to get away from Custer, was overwhelmed and destroyed - An unidentified Sioux told Colonel J. W. Pope in 1877 while he was visiting the field with a small party, including two Indians who had been in the fight, that a troop standing "well forward, making an angle with the other troops on Custer ridge made a considerable fight and that nearly all the Indians killed fell at this fight; (estimated loss of 30 to 40); that this troop was soon driven back to the position where it was overwhelmed; and when nearly all the command had been killed a few ran down to get shelter in the ravines."
Note - Kuhlman is in error here as no evidence has ever emerged that Custer's scouts had wings.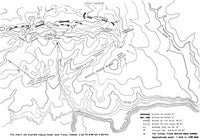 Keogh moves to join Benteen.