Post by herosrest on May 2, 2015 1:24:08 GMT -5
Ducemus
Essay 'Chapter' for 'Little Bighorn for Dummies'
All thinking, planning, scouting and strategy pursued by Alfred Howe Terry during his summer campaign of 1876, was intended to prevent the escape of hostile tribes known as 'Winter Roamers', and force surrender to life upon designated reservations. It was broadly understood by the army that Sitting Bull's lieutenatants would avoid combat other than upon their own terms unless caught by surprise and forced into flight and defence.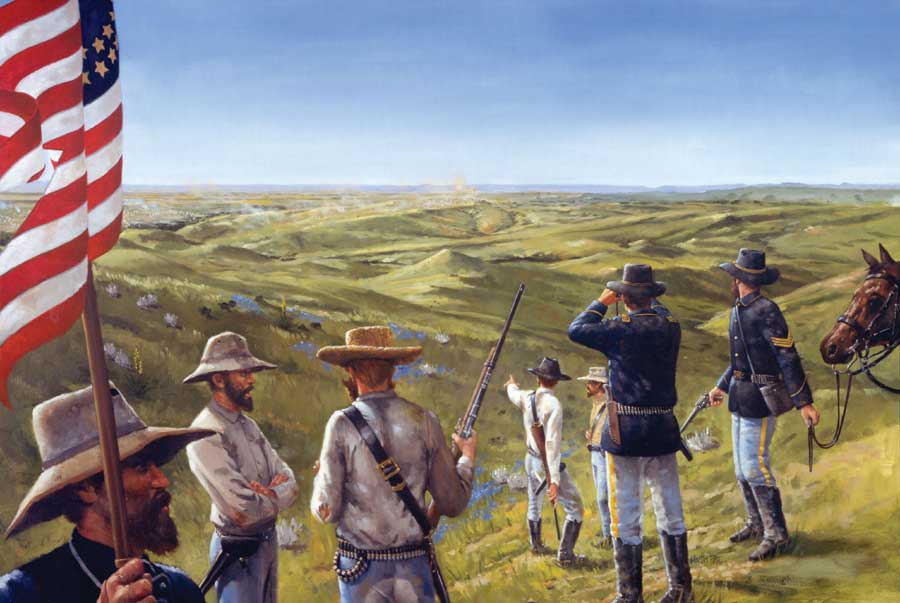 ■ During the early evening of 25th June, senior officer's commanding companies of the 7th Cavalry mounted Weir's Peaks and raised a guidon whilst observing for indication of companies in advance with the regiment's Commander. Some while earlier, a single company had advanced onto the same terrain in hope of assisting the thrust downriver which had been intended to cross into the valley of the Little Bighorn River and assist with the attack into that valley. The scene above was previously repeated as the two platoons constituting D Company of 7th Cavalry arrived down river of the peaks led by Lt Winfield S. Edgerley. That companies guidon would have been visible down river, as were those of the companies downriver seen to be in possesion of the enemy.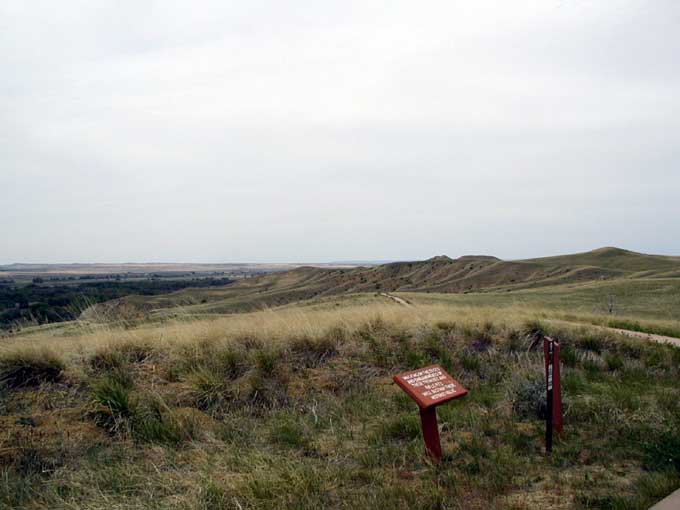 ■ During retreat from the opening phase of combat, three companies led by Maj. M.A. Reno, quit their fight in the Little Bighorn valley to the south of a big village and were driven across the river to terrain now known as Reno Hill or less commonly, The Reno-Benteen Defence Site; where they were joined initially by three companies led by Capt. Frederick W. Benteen and shortly afterwards by a pack train of supplies and a rear guard force which was the regiment's twelfth company led by Capt. Thomas B. McDougall. The view above is that available to officers on Reno Hill before advancing towards Custer's command which offered fine observation of the hostile's camp in the valley as tepees were hurriedly collapsed and a series of perhaps mystifying comings and goings occured.
■ It should be simply obvious, that initial viewing of the big village gave indication of the expected hurried flight to safety. Subsequently, the tepees were raised up some mile or so further down the valley - all within plain sight of Maj. Reno and Capt. Benteen before their advance towards Custer. It is obvious beyond reasonable doubt that it was hoped that the perceived flight from the valley was acceptable to Reno and Benteen, who only turned their interst to uniting the regiment once it became apparent the hostiles intended to remain in their presence.
■ That this was the way of things was given in testimony by George Herendeen during a subsequent investigation of the conduct of Maj. Reno during the battle (see below - large block of text)
■ During late afternoon and evening of 25th June, the camp in the valley relocated a mile or so down river, leaving a false impression of its size to any but an experienced eye. A count ordered by Brig. Gen. Alfred H. Terry, indicated some 1800 tepees, which should roughly be halved in assessing the village size and its population.
■ Initial reporting of events to Brig. Gen. Terry indicated that Maj. Reno's retreat onto bluffs east of the river was continuosly assailed until nightfall, without opportunity to unite with the companies further down river. This was entirely misleading and untruthful but accepted at face value then and remains unfortunately ignored today.
TERRY'S OFFICIAL REPORT ON THE CUSTER DISASTER -
www.littlebighorn.info/Articles/terryre1.htm