Post by herosrest on Apr 19, 2015 20:33:26 GMT -5
I linked in another post to the maps available to Terry, Crook, Sheridan and all involved in the campaigns of 1876. These were available through the Office of the Chief Engineer, Military Division of the Missouri - updated and enlarged 1876.
www.davidrumsey.com/luna/servlet/detail/RUMSEY~8~1~234578~5510153:Map-Of-The-Yellowstone-And-Missouri?qvq=w4s:/what/U.S.+War+Dept./Separate+Map/when/1876/;lc:RUMSEY~8~1&mi=0&trs=3
This was work correlated and assembled by Maj. G.L. Gillespie, for distribution to the army in the field. Printed 1877, obviously tracings were previously available.
Webliography for no particular reason.
www.fold3.com/pdf/M666.pdf
pages.suddenlink.net/topogs/yellowstone_expedition.htm
(This web page no longer exists. To see the original page, go to
web.archive.org/web/20081201124533/http://pages.suddenlink.net/topogs/yellowstone_expedition.htm
. To see the photographs that were used on that page, see
www.arlingtoncemetery.net/wludlow.htm
.)
www.topogs.org/GO79.html
www.topogs.org/homepage.htm
So........ LBH was contorted from quite early on and riven with assumption in having become such a contributed media and historical item. Media tends to fight shy these days but controversy abounds.
Now then, the good Maj. (Bvt. Lt. Col.) G.L. Gillespie
en.wikipedia.org/wiki/George_Lewis_Gillespie
,_Jr. traced a map of the LBH fight which is dated August 2nd 1876, which is 36 days after Montana Column lifted the seige of Reno Hill.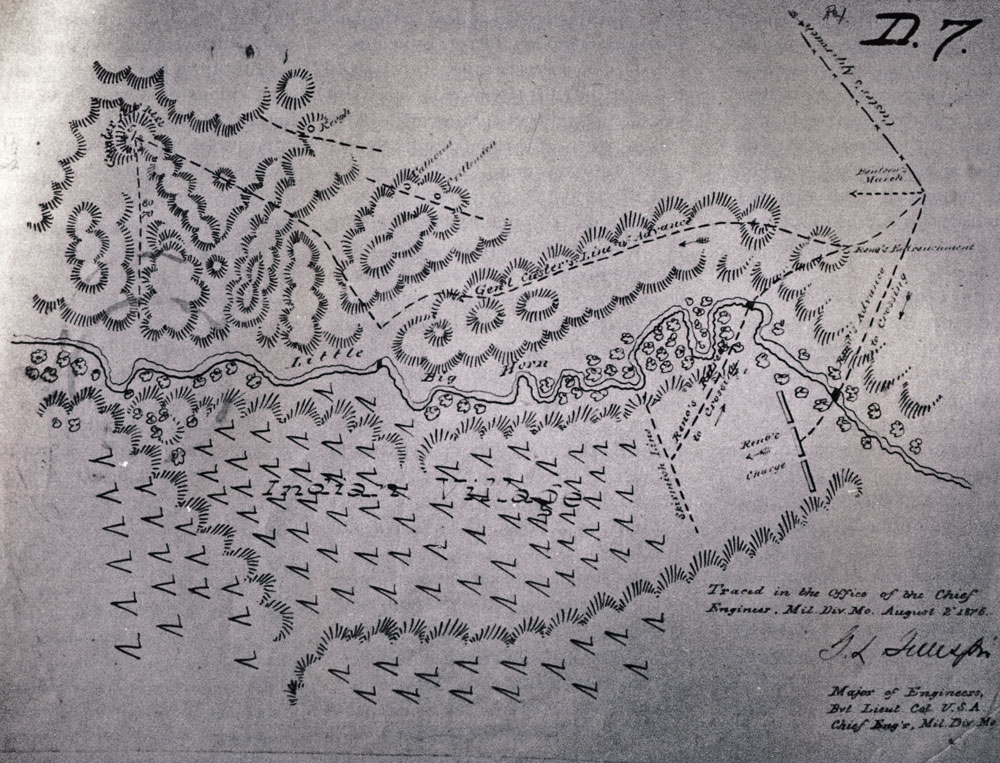 Interpretation of terrain -
GBW.bmp
(696.63 KB)
It is an interesting document, showing 'specifically, Company L deployed to what is now called Nye Cartwright Ridge. Stand well back, further.... further, daamn it! OK, now you will be very likely to miss or can readily ignore the matter. As everyone did until relic finds were mentioned to Marquis and discovered by Luce, whilst Kuhlman developed his theory that Custer's command were wiped out attempting to fight their way back to Reno Hill.
Now, it appears that only a few bodies lat in the area shown occupied by Calhoun and Crittenden, besides a ton of spent cartridge cases. Kuhlman, and John Stand in Timber following on from Kuhlman's work, indicate that fighting did occur on this terrain. It should be noted however that the battlefield was seeded with spent cartridges from Ft. Custer during the relevant period by one Eugene Wessinger who hosted annual celebrations including the 1916 and 1926 anniversary. In 1925, a Mrs. Thomas Beaverheart, the daughter of an Indian named Vehoenxne who was killed in the battle, made a request for a marker for her father to be placed upon the battlefield which went unanswered. Obviously Eugene was an incredibly busy superintendent.
So, Calhoun and Crittenden reached Calhoun Hill somehow..... but were they marching towards Reno Hill and the mouth of Cedar Coulee, previously. Were they holding the door open. How did they cope with fifty or so jipala nipping and buzzing around them. Fortunately, we know from Cheyenne history that warriors engaged by Company L, or a part of it, moved onto hills to the north and continued shooting down at the troops, who then rode into a big basin and halted.
digital.libraries.ou.edu/utils/getfile/collection/CampbellWS/id/307/filename/305.pdfpage
Cheyenne. Wolf Voice was a Gros Ventre by birth, who married Elk Woman, a Northern Cheyenne. He surrendered at Fort Keogh and afterwards scouted for General Miles in 1878/1879. He played a role as interpreter for Lt. Clark when Little Wolf was surrendering at Fort Keogh and was a member of Lt. Casey´s Indian Scout force. Frederic Remington was acquainted with several Cheyenne scouts after the battle at Wounded Knee Creek. He spent much time with Wolf Voice scouting the Badlands and discussing the war tactics of the army versus the tactics of the Sioux. Remington described Wolf Voice as a "magnificent type of Indian, with a grand face, a tremendous physique, and enough self-containment for a High-Church bishop." WV was photographed by L.A. Huffman in 1878.
Images of Wolf Tooth are harder to find but I have one of George.
Capt. Henry B. Freeman also identified the fighting on NC ridge and indicated how troops arrived there dismounted and, obviously, where the horses were dismounted.
You should be bored rigid by now - enjoy the military way =
www.rootsweb.com/~nalakota/wotw/military/tacticalstudy_wotw033034.htm
Coghlan was an interesting guy.