Post by scottbono on Jan 24, 2014 19:05:20 GMT -5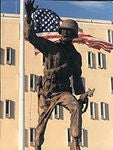 What surprises me is that no one commented about Keogh himself. Personally I think he gets a bad rap, mostly brought on by where his body was discovered. As a battalion commander, he would have turned over the running of his company to his senior subordinate. I cannot see a man like Keogh not being far forward and present where the most serious threat was. Initially that was Calhoun Hill. Now he was found back with his own Company I giving fuel for his detractors. I can think of two possible reasons for his presence with Company I that are completely in line with his battalion commander duties.
1) A new and unexpected threat emerged in that vicinity, and the place that leaders grace with their personal presence is in efforts to address threat.
2) Had Keogh, and this is just speculation, been given a time limit to stay in this area by Custer, or had Keogh decided on his own that it was time to go due to pressure, it would be likely that he would pass that first to Companies C and L, then back to convey the same message to Company I. All three then were caught in the act, and the rest is well known.
Perhaps a slice of each? Speculation of course but based on the very practical logic of your scenario(s). By a combining effect I mean the 'new and unexpected threat (1) occurs (Calhoun Hill area) and as a good commander aware of his troops' situation, gives orders first to C & L and then to I (2). However, I think, by that time, the momentum of the NA attack grows exponentially in both time and numbers and Keough 'gets caught' with I because time runs out.