Post by noggy on Jul 7, 2021 7:25:34 GMT -5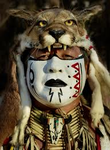 Well, it could have been myself i'm thinking of; I made the point in an article I've been writing for a military history magazine here for years and years without finishing. However, even if I think the whole "loosing view" comes often from Americans looking at it from their/the soldiers point of view rather than the NAs, there is some validity to it; the mistakes made by GAC & friends are so big that they affected the battle more than the (re)actions of the NAs. At lat I think so. Not everyday they got to deal with an regiment piecemeal. They didn't at Rosebud, or in the later battles that Autumn.
Noggy
Before I launch into another of my diatribes, could you please confirm what mistakes you believe Custer & friends made at LBH?
The Apache eh? Cochise, Geronimo et al. Yes, a fierce people, made so by the harsh environment in which they eventually had been pushed. Oddly enough, they had the same language root as the Inuit, so the assumption can be made that they had been pushed quite a long way from their original home. Fascinating too that many of the tribal names we label them by were not what they called themselves.
"Hunk" Papa
I'm not a fan of hindsight, and you'll find many people way more critical towards him than me (and the other way around…). The extremely short answer is that if you are on the offensive against an enemy with a numerical advantage and then without recon split up your regiment several times, ending up with 3 out of 12 companies actually making somewhat of an attack, 5 other companies being wiped out, the rest have their hands ful of surviving a siege….well, something went wrong and it was not only due to the NAs' ability to fight. But this is ofc an enormous topic,
Many tribes seem to be known by names given them by others. I've read "Sioux" comes from other tribes' nicknames (meaning "snakes" or something French. Both Comanche and Apache is often believed to be another word for "enemy" by other tribes, etc etc. Imo Cochise should rank right up there with Sitting Bull. A great character and leader. Speaking of Apache and inuit language, 80 ish years ago, my fellow Noggy Helge Ingstad spent time with both. He at one point went south into the Sierra Madre, looking for the so-called "Renegade Apaches" who hid and fought in the mountains for decades after 1886. I find the perido after geronimo's surrender very interesting. Either way, his book has been translated to English and is very much worth a look for anyone interested in the subject.
www.amazon.com/Apache-Indians-Search-Missing-Tribe/dp/0803271859/ref=sr_1_6?dchild=1&qid=1625659157&refinements=p_27%3AHelge+Ingstad&s=books&sr=1-6
All the best,
Noggy